17 Drinks to Warm Up Your Winter Wedding in New Jersey
---
Winter weddings are magical because it's the perfect season for a newlywed couple to enjoy each other's company. The bride dressed in a stunning white dress, surrounded by sparkling snow, overwhelmed with feeling strong enough to make her forget about the cold. But despite the magic, it can still get a little chilly. But you don't need to worry because we are sharing 17 tasty drinks to warm up your beautiful winter wedding in New Jersey!
1. Hot Chocolate with a Touch of Booze
Hot chocolate is the perfect drink to warm you up on cold winter nights. It doesn't matter how old you are, you can never say no to a mug of hot chocolate. At your winter wedding, set up a drinks station to serve your guests hot chocolate! The thought alone will certainly warm up your toes! Of course, there is no wedding celebration without booze, so keep separate options of whiskey, rum, or liquor that adults can add to their hot chocolate. You'll definitely please everyone with this winter savior.
(Source)
2. Flavorful Chai Martini
Chai makes everything better! Imagine being at your New Jersey winter wedding with a warm chai martini in hand, standing next to your partner. The visual is sure to excite any bride-to-be! The drink is full of dark spices that form a delicious and flavorful cocktail. Mix it up a bit with maple syrup and espresso, and you have yourself a flawless martini for the wedding.
3. Cardamom and Grapefruit Gin
You're probably wondering what gin is doing at a winter wedding – but believe us when we say you'll change your mind once you try this drink! Add cardamom to gin and watch the spices blend to form an unforgettable winter drink. The fizz adds an extra warm kick into the drink. You will be on the dance floor in no time!
4. Mulled Wine
Sometimes simple things make the most amazing memories. Mulled wine is one of those things. It is a simple, warm drink that eases you up during winters. The blend of star anise, clove, cinnamon, orange, and cabernet is sure to make you forget about the chill. Your guests will definitely leave much happier!
5. Hot Buttered Rum
This is another simple but favorite winter wedding drink. Serve your guests with hot buttered rum as they enter your reception ceremony. This will instantly warm up their spirits. The drink has a blend of rum, nutmeg, ginger, cinnamon, orange zest, sugar, and vanilla ice cream. The deep and warm flavors are a perfect combination for your big day!
(Source)
6. Mulled Pomegranate Cocktail
This perfect non-alcoholic drink will not only have you feeling energized but also make you forget about the winter chills. You can serve this delicious cocktail with its fruity pomegranate flavor as a separate option for people who don't want any booze on the wedding day. It's a great way to be inclusive of all your guests.
7. Cranberry Champagne
It's not a wedding until you enjoy a champagne drink with your partner, so of course, it is on the list! The tartness of cranberries and the fizz of Champaign combine to make the perfect New Jersey winter wedding drink. The best bit? You can eat the cranberries!
8. Cranberry Cuddle
Who doesn't need a big, warm cuddle during the cold winter months? If you're all about warm hugs, you should add cranberry cuddle to the drinks menu. It includes spices, clove, cinnamon, and cranberries to give off a warm taste that everyone craves during winters. After all, it's hard to concentrate on the celebrations when everyone is feeling cold. This is especially if the ceremony is taking place outdoors. Fortunately, you can add cranberry cuddle to the mix, and you've yourself the perfect winter wedding!
9. Pink Cocktail
Pink is a magical color that can accentuate your wedding festivities. The soft, plush, feminine vibes can uplift everyone's spirits and make it a day that everyone will remember for a long time. Add a candy cane and a dash of pink in vodka, and watch as your wedding's aesthetics leave the guests mesmerized. If there is a dash of pink in your wedding dress, you can add this drink to the menu, so it aligns with the theme.
10. Spiced Pear and Bourbon Cocktail
Incorporate dark liquor at your wedding to bring that warm, homely feeling for your guests. Pair up the bourbon with cinnamon, spices, orange peel, and pear, and feel the magic happen inside you. Imagine taking a sip and instantly feeling warm while you're surrounded by the cold of a New Jersey winter. Your guests will be more than happy to get a refill!
11. Citrus Tequila
This ravishing drink is not just a delight to the eyes but also a refresher for the taste buds. It includes blood orange, lime juice, and pomegranate juice with tequila to give a burst of flavor. The shot of tequila definitely gives some zing for the party! The colors will look fantastic as your guests hold their drinks for pictures.
12. Pomegranate New York Sour
This is what we call your very own Insta-worthy drink! It has a creamy and rich consistency, thanks to the egg white. It has whiskey, wine, and pomegranate juice to pack a flavorful punch! This drink will definitely make your guests want to head over to the dance floor!
13. Snowstorm Margarita
Orange liquor, coconut rum, and silver tequila – this winter wedding drink contain three classic ingredients. You can add honey or sugar to sweeten it as well. Snowstorm margarita is a sight for sore eyes and definitely exudes a holiday charm. Add it to the drinks menu for your winter wedding to give the guests a Christmassy surprise!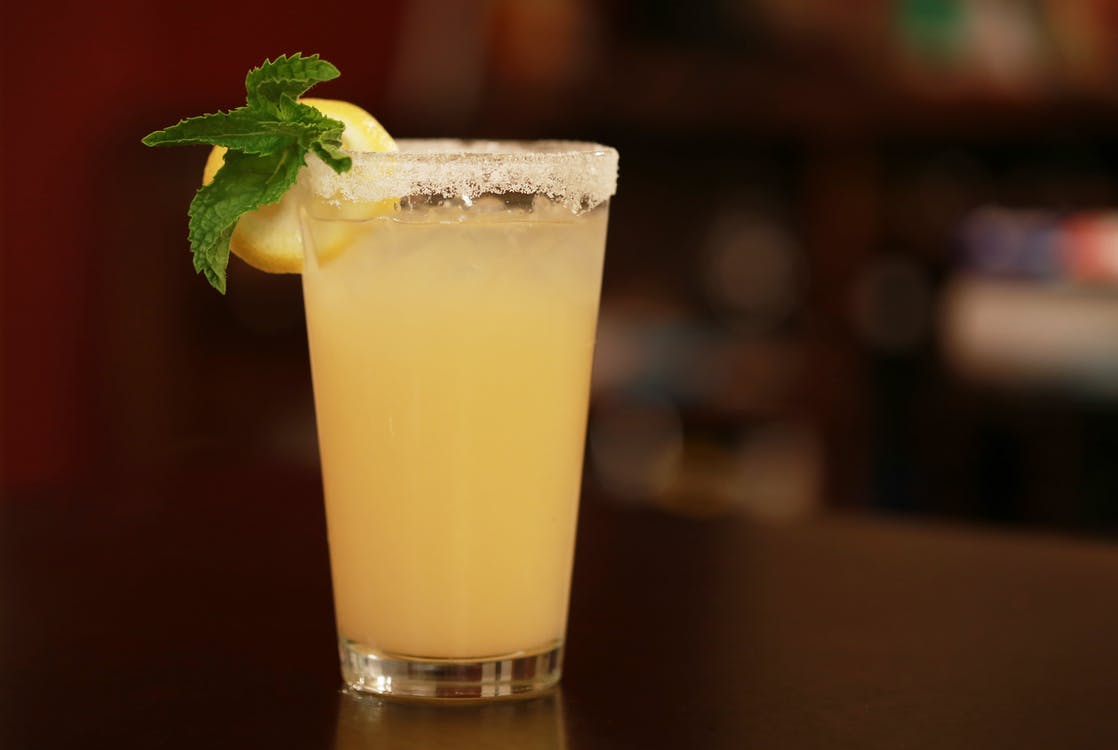 14. Champagne Punch
We all remember punch bowls at parties; easy to make and serve. You can also incorporate your own champagne punch at your wedding. Take it a notch up and garnish it with fresh seasonal fruits. It looks elegant and tastes absolutely delicious!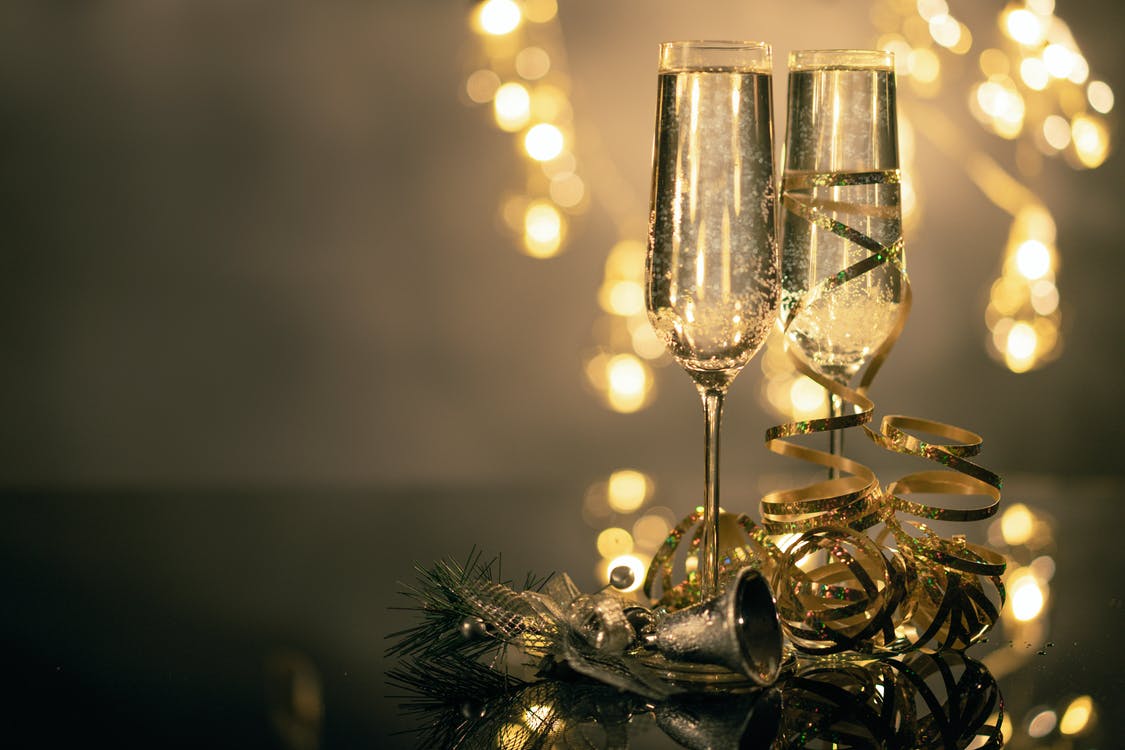 15. Old Fashioned Pumpkin
If you love pumpkin and bourbon, this is your drink to go! Combine your pumpkin puree with maple syrup and bourbon, and watch as your guests smile from ear to ear after the first sip. This perfect drink warms up your insides, and the presentation is perfect for a winter wedding. Old fashion is always a win-win.
16. The Golden Snitch Cocktail
This one is for all the Harry Potter fans out there! The Golden Snitch Cocktail – not only is the name so classic, but it tastes amazing, too! It looks magical and is a combination of apple cider, lemon, and St. Germaine; garnish it with a cinnamon stick. The ingredients speak for themselves! This cocktail will take your guests for a magical ride for sure!
17. Apple Brandy and Whiskey Cocktail
This combination is the perfect blend of rich flavors given by apple brandy and whiskey. It is a crowd-pleaser and definitely adds a wintery touch to your wedding. You can also top it up with whipped cream and sprinkle it with cinnamon powder.
Bonus Tip: Cupa Cabana Espresso and Coffee
Who doesn't love hot coffee and desserts at weddings! Having a separate station solely for drinks is the perfect way to liven up your guests. Cupa Cabana's exclusive service features coffee bars, smoothie and dessert stations, and mobile espresso. They are a mobile caterer that brings their setup to events. Cupa Cabana's trained baristas serve you with an energizing experience. Book them for your wedding day!
Winters are a beautiful time to get married. We know how difficult it can be to choose with so many options. 360sitevisit is here to help you with your planning. Drinks are a great way to keep your guests warm during the festivities! There are a lot of warm drinks that can lift up everyone's spirits and make them forget about winter chills. Try them out for yourself before you choose one for your big wintery wedding day!
Sources
https://www.lilyandlime.com/blog/p/holiday-drink-ideas-for-a-winter-wedding
http://www.bridebox.com/blog/15-tasty-cocktails-warm-winter-wedding/
https://www.brides.com/story/winter-wedding-signature-cocktail-ideas
https://onefabday.com/winter-wedding-hot-cocktails-for-cold-weather-weddings/
https://www.marthastewart.com/7957102/winter-wedding-cocktail-recipes
https://www.popsugar.com/food/photo-gallery/46807298/image/46813387/Whiskey-Apple-Brandy-Cocktails