Christmas Wedding Planner
---
It is the Most Wonderful Time of the Year!
Christmas Wedding Planner is in the midst of planning her lavish and exclusive wedding when her Handsome Prince came to her rescue with some ideas. Christmas Wedding in a magical venue and grounds that are covered in white fluffy snow will be romantic. Have you thought about throwing a Christmas Wedding? Think about it, the whole town will be decorated for your big day and your anniversary will be celebrated year after year. What a great idea, it is the most wonderful time of the year after all!!
Winter Wonderland Wedding for a Christmas Wedding Planner
Are you dreaming of a white Christmas Wedding? Christmas weddings are very special, they are filled with that holiday spirit and cheer. The Christmas season is full of color choices red, green, and white are the most traditional ones, but you can also use gold or silver. Holiday spirit, lights, festivities, traditions, and endless Christmas decoration ideas, what more can one ask for? Let's tastefully incorporate the season into your Christmas wedding. It will surely be a magical, fun, and romantic affair!
Your Happily Ever After in a Fairy Tale Setting!
We all like to dream of being a princess, finding true love with a knight in shining armor, and living happily ever after. fantasy
A cozy Christmas-themed wedding? Yes, share your warmth and LOVE with others while bringing in the magic of the holiday season. Christmas is the most wonderful time of year and the perfect time for a wedding! Christmas wedding gives an extra amount of love, and joy, just because it is the Christmas season, and everyone loves the holidays.
Sprinkle a Little Magic on your Wedding Day
WINTER WONDERLAND Venue For a MAGICAL CHRISTMAS WEDDING
Does Christmas has a special place in your life? Then what better time to get married than at Christmas! Before you look into your gown, flowers, bridal party... you will need to find that special venue. For a Christmas wedding, you should consider a venue with gorgeous backdrops, Warm fireplaces, tasteful Christmas decor, and a location that allows you to say "I DO" in the snow!
CHRISTMAS WEDDING INVITATIONS THAT PERFECTLY REFLECT YOUR STYLE
Everyone loves holiday greetings, and there are endless ways to incorporate the Christmas spirit of holiday cards into your wedding invitations. From modern & classic to vintage & rustic, you are sure to find a wide range of stunning wedding invitation styles. Wedding invitations and save-the-dates set the entire tone for your wedding, as they're the very first impression your guests have of your wedding style. You should find a stunning wedding invite and tweak the design to perfectly match your own unique taste. Once you find that perfect design and color it will be a good idea to keep all your "Day of" stationery such as programs and menu the same. Be sure to order a free wedding invitation sample to see the quality of the design and paper.
Bridal Gown for a Christmas Wedding
If you are a Christmas bride, you may be looking for inspiration to find that perfect gown. Colored wedding gowns are becoming super popular, especially for a Christmas wedding. Pick a color to stand out in white snow or pale winter colors. The number one color for Christmas is red, green or emerald is another traditional color for Christmas, gold is one more great color and you may also try silver. However, you might prefer the more traditional bridal color white, take a look at something with lace, sequenced, long veil, and use a Fur shawl.
If you decide on a white traditional gown and tux you can still add in the holiday colors and texture. Use Green or red velvet shoes for you and the bridal party. This is a great way to add in some holiday colors and it will look amazing.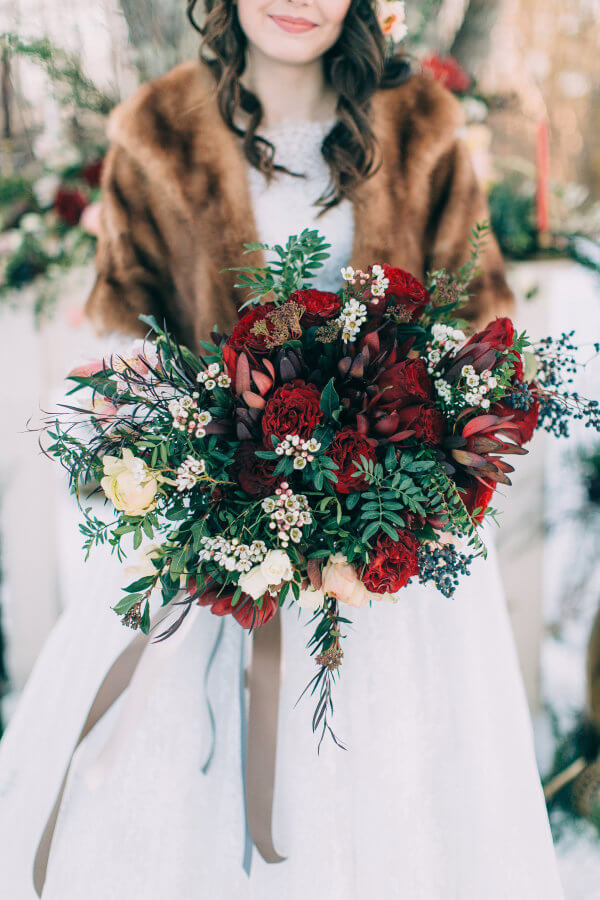 Christmas Wedding Bouquet
Walk down the aisle with a stunning bridal bouquet. Of course with the cold weather the variety of flowers is limited but no worries there is still plenty to choose from. Winter seasonal flowers make a gorgeous bouquet. You can also consider poinsettias and pines, these are not just for Christmas decorations.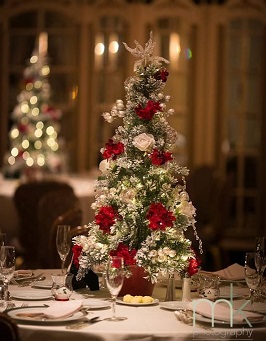 Christmas Wedding Decorations
Dress up the ceremony and reception spaces with a spray of vines, evergreens, & other holiday plants and flowers. Add lots of lights and even ornaments to your decor. You can use ornaments for centerpiece decorations and personalize them as wedding favors. You be surprised to see the personalized ornaments year after year on your friend's & family's Christmas trees.
Gingerbread House Card Box for Holiday Wedding
Instead of using a typical card box, why not use a gingerbread house? You can build a big elaborate gingerbread house or a smaller house with an open bottom to fit all cards.